---
New solo tour! [2013-07-10]
Ed is back from the Bad Seeds tour and is going to do some "Solo and By Request"-shows this fall - Australia and New Zealand! Read more!
---
Updates in the print section [2013-01-21]
Some updates in the print section: interview and short web clips
---
Ed to tour with Nick Cave [2013-01-04]
Now confirmed is that Ed will tour with Nick Cave and The Bad Seeds during most of 2013. Tour will include Australia, USA and [hopefully also] Europe. Tour dates to come as they become confirmed, stay tuned.
---
HAPPY NEW YEAR! [2013-01-01]
Yes, we wish you all a great new year, may 2013 be known to fulfill your wishes and good health to all! :-)
---
The tour dates [2012-12-01]
The official tour dates for Ed and Mark in January are as follow:
• 5 Jan 2013 - The Sound Lounge, Currumbin
• 17 Jan 2013 - Lizottes, Newcastle
• 18 Jan 2013 - Notes Live, Sydney
• 19 Jan 2013 - Clarendon Hotel, Katoomba

Tour poster here - and more info at the FeelPresent website.
---
More shows in January! [2012-11-17]
Feelpresents announces more shows by Ed with Mark Dawson in January 2013. For detailed info go to the FeelPresent website.
---
Review of the Old Museum show [2012-11-17]
Here's a review of the Old Museum show, by Steve Bell in Time Off.
---
Ed is to be speaker on the UnConvention in Brisbane [2012-11-17]
The UnConvention is held in Brisbane on the 24th & 25th of November, at The Edge. Read more!
---
Ed All-request show on the Gold Coast [2012-11-17]
That is the Gold Coast of Australia, for those of you who didn't know... ;-) Ed is to play an 'all-request' show at the Sound Lodge in January! Tickets and more info here!

Also - if you're into Facebook - have a look at Ed's Facebook page.
---
Late updates... [2012-11-10]
Apparently there were something wrong with the last few updates I did on this page, several news didn't show as supposed. Apologies for this.
---
Ed plays Brisbane tonight! [2012-11-09]
Last Brisbane show in a while - and album release of Second Winter! At the Old Museum Building. Tickets and info here!
---
Interview in Time Off [2012-11-08]
Ed spills the news, the beans, the lot!
---
Ed to play in Brisbane [2012-09-18]
Ed and Mark D is playing The Old Museum in Brisbane on November. More info and tickets at The Old Museum website.
---
Ed to speak at BIGSOUND Music Industry Event [2012-08-26]
Check out the BIGSOUND website for info on Ed and other 2012 speakers. A great honor, I'm sure.
Link to the BIGSOUND website for more info.
---
Reminder of the new Bandcamp site [2012-08-16]
Just a reminder to check out the new Bandcamp site. Out of print titles and downloads in lossless audio quality available!
---
Congratulations, Ed! [2012-08-16]
According to Prince Melon, Ed Kuepper was awarded the Grant McLennan Lifetime Achievement Award at the 2012 Queensland Music Awards. Three Cheers and a Hooray from thekuepperfiles! :-)
---
New Ed site! Free download! [2012-07-21]
Ed is up on the bandcamp site and to celebrate this new forum he is giving away a previously unreleased version of La Di Doh. In the future there will also be room for some unavailable titles on the new site. Go check out the new site and get the download!
BTW, it's my birthday today. :-)
---
Ed goes to America! [2012-07-01]
Ed and Mark is to play the Sometimes A Great Notion Festival in Portland, Oregon. If you can come - come! I wish I could. :-)
---
The Big Backyard 1994 on youtube [2012-03-21]
A 55 minute clip from "This Is The Big Backyard" concert in 1994 - with Ed Kuepper, Midnight Oil, The Dirty Three and many more - is available on youtube. Ed is on after about 42 minutes, doing a killer version of Lah Di Doh. Watch it on youtube or vimeo. Thanks to Antonio and Steven for sharing!
---
Second Winter is out! [2012-03-15]
It is out - Second Winter has entered the building! Details here And for those of you not having heard it yet, or if you're waiting for it to be delivered, you have something to look forward too! The two disc tour edition is a real treat! :-)
---
A letter from Ed - update on new album [2012-02-18]
A letter from Ed, originally sent to the Prince Melon mailing list, concerning the shipping and release of the new album, Second Winter, limited edition. Read it here.
---
New album! [2012-02-13]
Yes, it's true! It is the truth. The whole truth. And nothing but. The album is entitled Second Winter and a limited edition of the album is up for pre-sale on the last shows of the tour - and then it will be available for pre-order through the Prince Melon site shortly. More info on the album can for now be found here.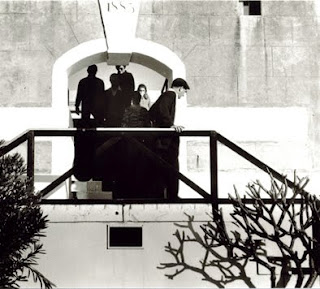 ---
Last shows with Mark [2012-02-10]
The last shows of the tour is coming up. It you're on the right side of the equator - don't miss it! Check the dates here!
---
More videos on youtube [2012-01-10]
Ed has put up more stuff on his youtube channel, check it out here!
---
Happy New Year! [2012-01-01]
I sincerely hope you all have a great 2012! :-)
---
Second Winter - new album [2012-12-19]
The next orchestral album from EK and cohorts - hopefully to be released in the first half of '12... We'll post news as soon as we got 'em!
---
More tour dates! [2011-12-27]
Check out new and more dates for Ed and Mark as they travel along... (Also check the Feel Present site!)
---
Bootleg series delayed [2011-12-17]
Things happen. Things come up. And they have. The recently announced Bootleg Series Vol's 19 and 20 will come out in the new year but not as soon as we all hoped. In the meantime: check out Ed's youtube channel!
---
Tour again! [2011-11-27]
December and January dates for Ed and Mark Dawson! More info here. On the 4th of December they share the bill with The Church & The Triffids. What a night!
---
Bootleg series 19 & 20! [2011-11-17]
Volumes 19 and 20 of the Prince Melon Bootleg series are in the last stages - Vol 19 is Electrical Storm Live and Volume 20 is Today Wonder Live, both recorded in The Spiegeltent Brisbane in September, towards the end of the tour Ed did with Mark.
---
Lyrics update [2011-08-17]
Lyrics to Eternally Yours added, many thanks to Antonio! :-)
---
Just a reminder: Ed & Mark rearranged! [2011-08-10]
Gigs in September (Melbourne and Oakleigh)! Check it out!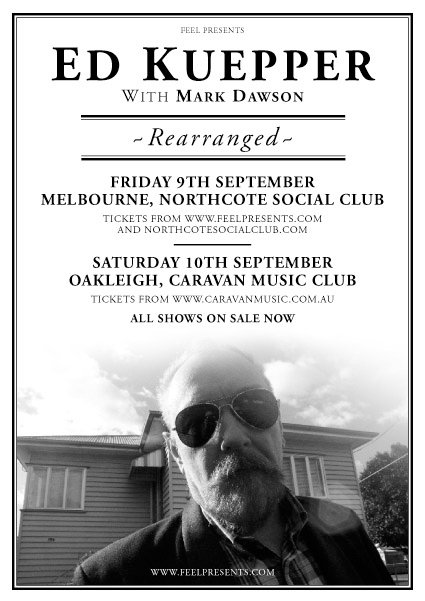 ---
Ed & Mark Dawson does it again! [2011-07-04]
Having successfully reunited with drummer Mark Dawson to re-imagine the Electrical Storm and Today Wonder albums, Ed has decided to keep the engine running and has added more shows including spots at the Famous Spiegeltent at both the Darwin and Brisbane Festivals, which follow sold out shows in the same venue earlier this year in Melbourne. Don't miss this!
Dates info and all you need can be found at the Feel Presents site!
---
The Saints Radio Special! [2011-02-24]
Listen up now, you good people! Mr David K recently did a radio special on Saints first three albums. You can find a profile history written by Dave, a nice Saints playlist and, of course, the radio show to download at the Revolution Rock blog! Enjoy!
---
Tickets for Melbourne [2011-02-01]
Tickets are now available for the two Melbourne shows. Here are the links to the two shows...March 18 - and March 19. Supplies are limited! :-)
---
Kuepper and Dawson play the classics - live! [2011-01-10]
Ed Kuepper will a couple of shows with Grinderman in January and then - together with Mark Dawson - play the classic albums Today Wonder and Electrical Storm live in March. Press release and dates here...
---
Happy New Kuepperyear! [2011-01-01]

---
Blink and you'll miss it! Prince Melon sells out... No, not really [2010-11-29]
Further travels up the Kuepper trail... New volumes: 16, 17 and 18 of the PM bootleg series released and already sold out! But nevertheless: check out the Prince Melon site, there are still goodies left to pursuit and purchase. And some videos too! And check out voumes 14 and 15 here. And, yes. I'm slowly updating the bootleg series... :-)
---
More from the Prince Melon vaults [2010-11-21]
Yes, new volumes shipped. And further ones coming in December!
First of all there are the new titles in November - radio sessions from 1999 and 2000. Available at the Prince Melon site as usual. And then, more radio sessions and more Clowns live is coming in December... Ho ho ho, etc. :-)
---
Last Clowns t-shirts! [2010-09-02]
If you'd like a nice Clowns t-shirt, hurry and check them out at the Prince Melon site! Just a few left now...
---
Ed featured in the latest issue of Uncut magazine [2010-09-01]
Ed is one of a bunch of people picking and talking about the "30 best songs of Nick Cave"... Ed's choice is Do You Love Me, which he also covered on the Exotic Mail Order Moods and Reflections Of Ol' Golden Eye albums.
---
More live pics on Ed and Chris [2010-09-01]
Many thanks to Jim for sharing more pictures from Ed and Chris live in Melbourne in May. These are from the second night at Bennet's Lane (the 23rd of May)... Check them out!
---
Last four volumes from Prince Melon has shipped [2010-09-01]
...and also practically already sold out. Great support and interest - congratulations to the Prince himself! :-)
Discography section is being [slowly but surely] updated...
---
Interview with Ed from 1993 [2010-08-19]
Thanks to Antonio you can check out an article and interview from the Bucketful Of Brains magazine, April 1993 issue. Lots of nice pics too! Thanks, Antonio! :-)
---
More releases from Prince Melon [2010-07-27]
Great news! Last 4 volumes in the first series of Prince Melon bootlegs is up for pre-order! The quartet are: a live Aints recordings from Sarah Sands in Melbourne 1991, Ed and the Kowalski Project live from 2007, a collection of studio demos and outtakes from 1988 and 2007, and last but not least, The Ascension Academy - a one performance side project as part of the Brisbane Sound Festival, probably from 2007. More info here and at the Prince Melon website.
---
Live news [2010-07-05]
Ed is playing "a special show" on the Brisbane Festival, 15th September, on King's George's Square.
---
Ed on new album [2010-07-05]
Ed has put together material for a new album - working title "Electricity - the high priest of all security". Recording hasn't started yet, but things are moving! :-)
---
Kuepper/Bailey live pictures! [2010-07-10]
Thanks to Mende we got some lovely pics from the gentlemen Bailey and Kuepper playing low key live in Melbourne this May... Enjoy them here!
---
Thrilling new releases in 2010 [2010-04-21]
Ed & Co are planning a set of exciting releases for the second half of 2010! What do you think of a set of studio recorded demos for the untitled - and never released! - follow up album to Everybody's Got To from early 1989 - including some tracks from the coinciding tour, recorded by a Swedish radio station. (Hooray! ;)
Also, there is a great live performance recording of The Aints from 1991 (predating the Ascension album). Apparently with good sound quality too!
A bunch of studio demos from the Jean Lee album sessions has also been discovered as well as the debut live performance of that album - with horn section and cello and all!
Finally there's some radio sessions from around the world, a series of studio record unreleased b-sides from the mid 1990s and Clowns live stuff from 1980s... and more, says Ed.
A lot to look forward to! :)
---
DVDs are shipping [2010-04-21]
The fine Prince Melon people are now shipping the ordered DVDs -- some of you might already have received your copy. Others have hopefully not long to wait!
---
Updated info on the Kuepper & Bailey tour [2010-04-07]
Read the press release!
Check the poster and ticket info!
Call the venues for tickets!
---
Ed and Chris Bailey live in Australia [2010-04-06]
Ed will be doing a number of club shows in Brisbane, Sydney and Melbourne in May, together with Chris Bailey. These shows will not be a Saints reunion, but the pair will be playing a more acoustic orientated set with new material being on the agenda. No dates set yet, but more info as soon as I know anything...
---
Live DVDs now available! [2010-04-06]
Honey Steel's Gold live at the Tivoli in Brisbane and Laughing Clowns live at GoMA is now available via the Prince Melon Records website. The HSG show is a little different and slightly extended performance of the one from the Honey Steel's Gold Live At The Forum CD. The DVDs are region free and in PAL. More info at the Prince Melon site.  
---
New Prince Melon blog site - and chance to order CDs! [2010-03-03]
Great news for those of you (us!) who would like to order some cd's from the Prince Melon label - and also get some nice updates, right from 'the horse's mouth', so to speak. Ed and Prince Melon has launched a blog site: Prince Melon Records at blogspot. Please go there to check out the Bootleg Series releases and order what's available!
---
Additions and updates! [2010-02-23]
Info and cover art for the new Prince Melon Bootleg Series, Vol 8 - Laughing Clowns Live! Also updated info on Volume 7, Clowns live in Brisbane. And! A nice pic of a fabulous Clowns t-shirt! :-)
---
Kowalski Collective plays Brisbane in March [2010-02-13]
Ed and the Kowalski Colletive will play at the Art Gallery in Brisbane on March 12 - ticket info here!
---
Prince Melon Bootleg Series - The Laughing Clowns [2010-02-13]
Latest addition to the Prince Melon Bootleg Series - Volume 7 - is a live recording of Laughing Clowns, recorded in Brisbane during 2009. I expect to have more info soon, but until then you can find trackinfo etc on the messageboard. Also, I hope to soon be able to shed some light over the vols. 4-6 as well!
---
Reminder - check youtube.com![2010-02-03]
Don't forget to check the youtube.com site now and then. Here's something from the Bad Seeds tour (Dresden, June 2009) performing Nick Cave's Papa, Won't Leave You Henry (unfortunately only about a minute).
Also here's some oldies but goldies: King Of Vice, The Way I Made You Feel and Electrical Storm, all from the Honey Steel's Gold Tour.
---
New oldies - compilations featuring Saints songs [2010-02-03]
Two new additions to the covers/compilations section of the discography: Love Will Tear You Apart and the 1976 edition of Rough Trade's Counter Culture album series.
---
Happy New Year! [2009-12-31]
Happy New Year, all Kuepperphiles!
---
Laughing Clowns live in January - extra Melbourne show! [2009-12-28]
Live Clowns in Sydney, Brisbane and Melbourne in January. Three show together with The Dirty Three, one headlining show - performing History Of Rock'n'Roll - and more! Read more...
---
Pictures! Clowns live in May [2009-12-28]
Mende was there. A whole bunch of lovely live-pics of the Clowns, anno 2009. Enjoy!
---
Podcast, pictures and some nice links on Nick Cave live (with Ed)! [2009-12-28]
From the summer's tour with the Bad Seeds. For all of this - and more! - check out Annie's great site here!
---
Finally back on track... and a Merry Christmas to you! [2009-12-25]
There's been a quiet here, I know. But now I'm hopefully back on track - with a first good news from Ed: More live Clowns in January! Congratulations Melbourne!