THE BOOMERANG : Rated on the rebound
Formed after the untimely demise of the first line-up of The Saints, Ed Kuepper's Laughing Clowns were the greatest Australian rock ensemble of the 1980s. Their incredible output is only matched by their inexplicable near-invisibility within Australian rock history, but the comprehensivev Cruel But Fair (Hot 3xCD), collating their entire recorded output, addresses that injustice. The Laughing Clowns are often misread as a jazz rock outfit, simply because they were one of the few groups to harness correctly the elemental power of brass. It is far more appropriate to consider their songs as applications of classic jazz models (such as strong ensemble playing and melody heads that allow for extemporisation on a theme) to protean rock, rather than a simplistic 'crossover'.
Their classic Eternally Yours makes several appearances throughout the set, but the songs from their 1981 all-time classic Mr Uddich-Smuddich Goes To Town burn the brightest, with Kuepper's guitar streaming thick gushes of wild chordage and spindly lines of astringent melody over the loose-limbed, spidery intricacies of Jeffrey Wegener's drums. Kuepper and Wegener were the lynchpins of The Laughing Clowns, around which eight line-ups coalesced. The group were internally fractious by nature, and Kuepper gave up on the group in 1985 after their underrated Ghosts Of An Ideal Wife album, but their recorded legacy is peerless, a massive weight of fiery and bruising rock music.
Ed Kuepper also recently released a retrospective of his post-Laughing Clowns solo recordings, This Is The Magic Mile (Hot 3xCD). Frustratingly, the set doesn't span his great late 1980s trilogy of solo albums, Electrical Storm, Rooms Of The Magnificent and Everybody's Got To, though a few songs from those records turn up as live recordings from 1998. That aside, throughout the 1990s he essayed a clutch of variable but always fascinating albums, taking in blue-eyed pop, blues, folk, traditional numbers, instrumental themes, electronics and occasional returns to scorching rock. Some of his best work crops up on this set, drawn from albums like Today Wonder and Honey Steel's Gold, such as his most affecting ballad, Everything I've Got Belongs To You. Two tracks from his early 90s rock outfit The Aints are included, both from 1991s Ascension, proving Kuepper at his best and most vicious when his guitar is pouring molten from overloaded amp stacks. A retrospective set of their three hardwired albums would be welcome indeed.
JM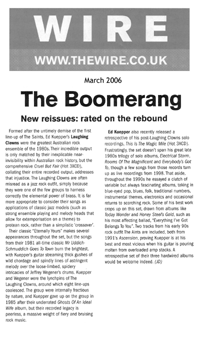 Click on image to enlarge