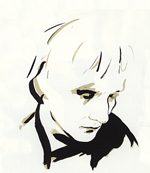 New recordings!
It is September 2006 and I'm very proud to present a couple of new recordings by Ed Kuepper and the Kowalski Collective, recorded recently.
The songs (especially Eternally Yours of course) are part of what Ed calls a "hypothetical live performance of the Laughing Clowns, what I believe the would sound like if they played today".
Exciting!
Click to listen (or right-click/control-click to download)
Eternally Yours, part 1, 4:56, 128kbps mp3
Eternally Yours, part 2, 3:49, 128kbps mp3
La Di Doh, part 1, 4:25, 128kbps mp3
La Di Doh, part 2, 3:39, 128kbps mp3
Enjoy!
Many thanks to Ed, of course.